US to ease some Burma sanctions to encourage reforms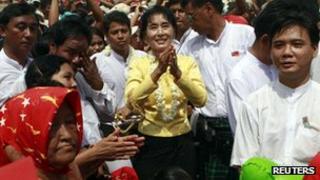 The United States is to relax some financial sanctions against Burma.
It will now allow financial transactions in support of certain humanitarian and non-profit activities.
The US treasury department made the announcement on Tuesday, as part of attempts to reward democratic reforms that are under way in the country.
Financial restrictions on sporting ties and "non-commercial development projects directly benefiting the Burmese people" will also be lifted.
It is the latest stage in a gradual easing of international pressure on Burma.
The process of reform began with the election of a military-backed but nominally civilian government in November 2010 that ended decades of military rule.
That was followed by 1 April by-elections which returned a number of opposition politicians to the country's parliament.
Earlier this month US Secretary of State Hillary Clinton, who visited Burma in December last year, said some travel and financial restrictions would be relaxed, with Burmese leaders allowed to visit the US.
Under the moves, the US will name an ambassador to Burma and establish an office for its US Agency for International Development (USAID) in the country.
Reformers 'strengthened'
On Monday Australia announced it would ease travel and financial restrictions on about 260 Burmese nationals, including President Thein Sein.
Australia's announcement came after the British Prime Minister David Cameron said in Burma on Friday that the UK was considering suspending sanctions.
Mr Cameron said economic sanctions against Burma should be suspended in recognition of the changes taking place there, after meeting both the president and pro-democracy leader Aung Sung Suu Kyi.
Ms Suu Kyi, whose National League for Democracy (NLD) party won 43 seats in this month's by-elections, welcomed his call and said the suspension of sanctions would "strengthen the hand of the reformers".
Mr Cameron was the first UK prime minister to visit Burma since it gained independence in 1948.
Later this month the European Union will discuss easing some of the sanctions it has in place against the Burmese government - although there is no suggestion at this point that restrictions on arms sales will be lifted.