Nurse shoots Texas mother dead and steals her baby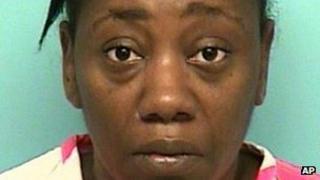 A nurse has admitted shooting dead a young mother in a town near Houston, Texas, and abducting her newborn baby, authorities said on Wednesday.
Verna McClain, 30, who faces capital murder charges, repeatedly shot Kala Marie Golden, 28, and snatched the boy from the woman before driving away.
Officials said the three-day-old infant was found unharmed with Ms McClain's sister on Tuesday.
Prosecutors suspect the attack may have been part of a plan to abduct any boy.
"We believe we have sufficient evidence to prove that she kidnapped the child and committed the murder," District Attorney Brett Ligon said at a news conference on Wednesday. Ms McClain is being held without bail.
Mother of three
Earlier Mr Ligon told ABC's Good Morning America programme that he did not believe Ms Golden had been targeted specifically.
The stolen baby, Keegan, has been reunited with his family, a Child Protection Services spokeswoman told the Houston Chronicle newspaper.
He was found with Corina Jackson, Ms McClain's sister, who told investigators that her sister had said something about an adoption, officials say.
Ms McClain has two children and has been separated from her husband for two years.
Theo McClain, her estranged husband, said the couple had also raised another child from a previous relationship.
"I don't understand that, her taking a child," Mr McClain told Associated Press. "That doesn't make sense. We have three kids. And then to shoot somebody? I've never known her to hurt anybody."
Ms McClain had told her fiance she had given birth to their child, according to Captain Bruce Zenor of the Montgomery County sheriff's office.
Ms McClain had actually miscarried.
Her fiance, who was not identified, is being interviewed by authorities.
Ms McClain has vocational nursing licences in both California and Texas and has not faced disciplinary action, according to each state's licensing board.
'My baby!'
Ms Golden was shot as she took her son for a routine check-up at Northwoods Pediatric Center in the town of Spring on Tuesday afternoon.
Witnesses say there was an argument between Ms olden and another woman in the car park outside the building, before the attacker opened fire.
The dying woman leaned into the vehicle and tried to take her child back, screaming "my baby!" but her attacker sped away.
A receptionist at the paediatric centre said that Ms McClain was not an employee there.
Linda Golden, the victim's mother, told the Associated Press: "I wanted to kiss her before they put her in the ambulance."
"That's the hardest she's ever fought," Ms Golden added. "She died trying to save her baby."
Speaking to Houston television station KHOU on Tuesday, Keegan's father, Keith Schuchardt, paid tribute to Ms Golden.
"She was sweet, lovable," he said. "I loved her and she loved me."
Days earlier, Mr Schuchardt had announced the birth of his son on Facebook: "Baby Keegan is here, born 4/14/12, 6lbs 15oz, 20 inches long. Looks like me lol."