Etan Patz: New York dig for 1979 missing child clues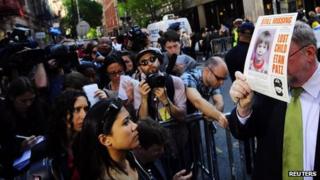 Police and the FBI in New York are excavating a Manhattan basement as they seek clues into the 1979 disappearance of a six-year-old boy.
Etan Patz vanished on his way to catch a school bus on the first day he was allowed to travel to school alone. His remains have never been found.
Police said a forensic team was looking for blood, clothing or human remains.
Etan's disappearance drew national attention and his face was among the first to appear on milk cartons.
"This was a shocking case at the time and it hasn't been resolved," police spokesman Paul Browne said.
The dig began on Thursday morning at the building in the SoHo area of Manhattan, just a block or so from the 1979 address where the Patz family lived.
Cadaver dog's scent
Law enforcement officials said the building was along the route Etan Patz would have taken to school on the day he vanished.
But they gave few clues as to why they had chosen to search that particular building.
The Associated Press reported that at the time of the disappearance the building housed the workshop of a carpenter thought to have been friendly with the six-year-old.
An official told the news agency that investigators had recently received information Etan's remains might be buried in the basement.
Law enforcement officials also confirmed that an FBI dog detected the scent of remains at the building.
As part of the dig, a forensic team will remove the concrete floor and remove drywall partitions to get at brick that would have been exposed in the 1970s.
His 1979 disappearance quickly became synonymous with the tragedy of the missing child.
Etan's face became one of the first to appear on milk cartons, his wide smile urging Americans to keep their eyes peeled.
In 1983 President Ronald Reagan declared 25 May, the anniversary of the day Etan Patz disappeared, as National Missing Children's Day.
His parents, Stanley and Julie Patz, became outspoken advocates for missing children in the years after his disappearance.
The Patzes have not moved since his disappearance and for years refused to change their phone number, hoping that Etan was alive.
In 2001, however, the family obtained a court order declaring their son dead.