UK terror convict testifies in US about Bin Laden meeting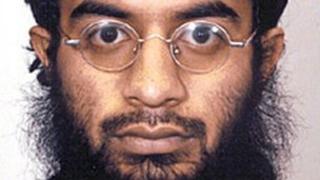 A British man jailed for plotting to blow up a plane has admitted meeting Osama Bin Laden, in a taped testimony for a US terror trial in New York.
Saajid Badat, 33, told the trial of Adis Medunjanin - accused of plotting to attack the city's subways - that he met Bin Laden in Afghanistan in 1999.
It is the first time a terrorist convicted in the UK has testified at a terror trial abroad.
His sentence was cut in exchange for his testimony and he has been freed.
On Monday, British prosecutors revealed that Badat's UK 13-year sentence had been reduced by two years. Jailed in 2005, he has been described as an al-Qaeda supergrass.
Badat, from Gloucester - who would otherwise have been released in July two-thirds of the way through his term - was freed in March 2010, the Parole Board said.
He refused to appear in person, as he remains under indictment in Boston on charges of conspiracy with would-be British shoe-bomber Richard Reid.
"If I go to the United States, I'll be arrested," Badat said on the videotape played in a federal court in Brooklyn, New York.
Mr Medunjanin, 27, a naturalised US citizen, is accused of travelling to Pakistan with two friends in 2008 and receiving terror training from Bin Laden's network. The other two men have pleaded guilty and testified against him.
Badat had no involvement with the three, but prosecutors wanted to use his testimony to corroborate what Mr Medunjanin's friends have said about al-Qaeda's training methods.
US prosecutors and defence lawyers interviewed Badat in late March, before the trial began.
Badat said he had "direct interaction" with Bin Laden more than once in Afghanistan, and that Badat had agreed to blow up a plane using explosives hidden in his shoes.
But while Reid went ahead with the plot, Badat backed out, and was later arrested and convicted of conspiracy.
The bulk of Badat's evidence will be heard when the trial resumes on Monday.