Trayvon Martin: George Zimmerman faces bail hearing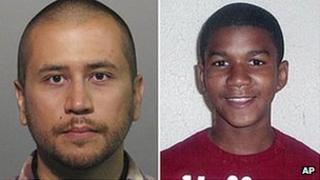 The Florida man accused of killing an unarmed black teenager is appearing in court to seek bail while awaiting trial for second-degree murder.
George Zimmerman, 28, makes his second appearance since being charged over the death of Trayvon Martin, 17.
His lawyer surrendered his passport and said he should be granted bail because of a previous record of good conduct.
Mr Zimmerman shot and killed Trayvon Martin while patrolling a gated Florida community on 26 February.
Mr Zimmerman appeared in court wearing a suit and shackled at the waist and wrists. He sat between his lawyers during the hearing and conferred with them occasionally.
Testimony
Mr Zimmerman's wife, Shellie, and his father, Robert, were questioned by the lawyers via telephone.
Prosecutors asked her about a 2005 incident when Mr Zimmerman was arrested for assaulting a police officer, and an anger management course he was required to take.
Mrs Zimmerman testified that she did not believe her husband was a danger to the community, while his father said he did not know his son to be violent unless provoked.
They said they had very little money to post for bond.
In testimony that backed defence assertions that Mr Zimmerman was injured while defending himself, his father told the court that following the confrontation with Trayvon Martin, he saw two vertical gashes on his son's head, cuts on his lip and a protective cover on his nose.
Mr Zimmerman's mother, Gladys, testified that her son had often acted in the defence of others, including homeless people and children.
She said her son was once recognised by the mayor of Sanford for seeking justice for a homeless man and that he has mentored a 14-year-old African-American boy for the last two years.
Trayvon Martin's parents are present at the hearing.
Mr Zimmerman says that he acted in self-defence after an altercation broke out between the pair. He was not arrested because under Florida law the use of lethal force is allowed if a person feels seriously under threat.
The incident prompted protests in Florida and elsewhere in the US calling for the arrest of Mr Zimmerman and "justice" for Trayvon Martin.
'At risk'
Friday's bail hearing is the first involvement in the case of a new judge, who takes over after a previous appointee recused herself citing a potential conflict of interest.
Mr Zimmerman's lawyer Mr O'Mara, appointed only as his client was arrested last week, said he would seek bail and would ask the judge to allow his client to leave the Orlando area out of concern for his safety.
Allowing such travel would be unusual in murder cases, analysts said, but Mr O'Mara said it was necessary in this emotive case.
"I think nobody would deny the fact that if George Zimmerman were walking down the street today, he would be at risk. That is a reality."
If convicted, he could face life in prison.
According to an affidavit of probable cause released by the prosecutor's office when charges were brought, Trayvon Martin was walking home from a local shop carrying a bag of sweets and a can of iced tea when he was "profiled" by Mr Zimmerman.
The document notes that Martin was unarmed but Mr Zimmerman assumed he was a criminal.
The neighbourhood watch volunteer had told a police dispatcher he thought Martin, who was wearing a hooded sweatshirt, looked suspicious.
The dispatcher advised Mr Zimmerman not to go after the young man. But minutes later a confrontation ensued, leading to the fatal shooting.