Etan Patz: No 'obvious human remains' found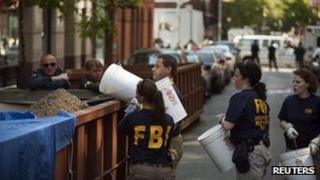 No obvious human remains were found in a Manhattan basement excavated in an attempt to find clues about the 1979 disappearance of a six-year-old boy.
New York City police say Etan Patz's vanishing remains a missing person case after the on-site search finished.
Etan vanished on his way to catch a school bus on the first day he was allowed to walk alone.
Investigators are still examining some material gathered at the site, including a stain on a wall.
The stain did not contain traces of blood, law enforcement officials told US media. Hairs found at the scene are also being tested, although it is not clear if they are human.
The excavation site was near the Patz family home, where they still live, and previously belonged to a handyman that was friendly with Etan at the time of his disappearance.
The handyman has not been named as a suspect and his lawyer has rejected any suggestion that his client could know why the boy vanished.
Containers full of rubble and sand from the basement were hauled away on Monday to Staten Island, to be preserved in case officials need to revisit the excavation.
The dig began on Thursday morning in the SoHo area of Manhattan.
After he vanished, Etan's face became one of the first to appear on milk cartons, his wide smile urging Americans to keep their eyes peeled.
In 1983 President Ronald Reagan declared 25 May, the anniversary of Etan's disappearance, National Missing Children's Day.