Jose Padilla takes 'torture' lawsuit to Supreme Court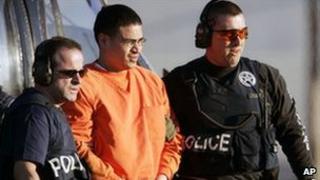 An American citizen who says he was illegally detained and repeatedly tortured in a US navy jail has asked the Supreme Court to reinstate his lawsuit against senior US officials.
Jose Padilla accuses current Defence Secretary Leon Panetta, former Defence Secretary Donald Rumsfeld and other officials of breaking the constitution.
Padilla was convicted of terrorism-related offences in 2007.
In January, a court upheld an earlier ruling dismissing the suit.
Padilla's allegations relate to the more than three years from 2002 in which he was held an "enemy combatant".
His civil lawsuit against several serving and former US officials alleges he was tortured by being kept in darkness and isolation, deprived of sleep and religious materials, and kept from family and lawyers.
In 2011 his case was dismissed by a US judge, who said the law did not offer clear guidelines on the detention of enemy combatants.
Padilla's appeal against the decision was rejected in January this year by the US Appeals Court, which ruled that the officials in question had partial immunity.
The current appeal to the Supreme Court is being brought on Padilla's behalf by the American Civil Liberties Union (ACLU) and his mother, Estela Lebron.
Padilla is currently serving a 17-year sentence after being found guilty of helping a US-based al-Qaeda cell.
He was arrested in Chicago on his arrival on a flight from Pakistan in 2002, after allegedly having undergone terrorism training in Afghanistan.
President George W Bush declared him an enemy combatant a month later, saying he possessed valuable intelligence about al-Qaeda.
Taken to a navy jail in South Carolina, he was held there for more than three years.
Padilla's lawsuit argues that the US authorities created the category of enemy combatant to circumvent suspects' normal constitutional rights.