John Edwards trial: Witness told donations 'legal'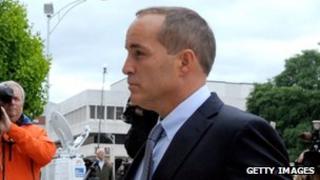 A key witness in the campaign finance case against John Edwards says he worried about using secret money to pay Mr Edwards' mistress.
In his second day of testimony, Andrew Young told a jury that Mr Edwards assured him what they were doing was legal, but "it felt and smelled wrong".
He was granted immunity from prosecution for testifying.
The two-time presidential hopeful denies the charges and could face up to 30 years in prison.
On the opening day of the trial, the court heard that Mr Young had contacted three other witnesses during the past fortnight to discuss their testimony, a potential violation of federal law.
Judge Catherine Eagles said the calls could be mentioned in court.
Fraudulent tables
Mr Young testified on Tuesday that Mr Edwards himself directed the aide to give money to his pregnant mistress, Rielle Hunter, after she threatened to expose the affair.
The aide suggested asking Rachel "Bunny" Mellon, an elderly heiress who had already given generously to Mr Edwards' campaign, for money. Fred Baron, the Edwards campaign finance chairman, was also a donor to the secret fund.
Mrs Mellon allegedly wrote cheques totalling $725,000 (£449,000) to her interior decorator, who then sent the cheques to Mr Young's wife to co-sign using her maiden name.
Descriptions for the donations were listed in the cheque's note line as "chairs" and "antique Charleston table".
Mr Young said Mrs Mellon had offered to pay for Mr Edwards' expenses after the senator was criticised for his expensive taste in haircuts, and that he never he told her specifically what the donations were for.
"I told [Mrs Mellon] that we had a non-campaign expense that would benefit Mr Edwards, and we needed her help," Mr Young said.
The former North Carolina senator has denied knowing about the payments to Ms Hunter, but Mr Young's testimony that they discussed the legality of the cheque arrangement directly contradicts that assertion.
"He said it was completely legal, that it was a non-campaign expense," Mr Young said.
Mr Young initially claimed paternity of Mr Edwards' child with Ms Hunter as part of the cover-up.
The defence argues that Mr Edwards did not know about the Mellon donations. During opening statements on Monday, lawyers alleged that Mr Young pocketed most of the donor money and used it for personal expenses, including a $1.5m home.
Mr Young wrote a tell-all book about his time as John Edwards' aide. He has previously admitted that parts of that book, The Politician, were not true.