Edwards aide's wife Cheri Young breaks down in court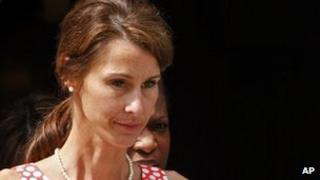 The wife of John Edwards' former aide has wept in court as she testified of her role in efforts to hide the former presidential candidate's affair.
Cheri Young, testifying in Mr Edwards' campaign finance trial, said he had assured her using money from a campaign donor to hide his affair was legal.
Mrs Young told the court Mr Edwards, 58, had made the plan sound "as if it was for the good of the country".
The former North Carolina senator could face 30 years in prison if convicted.
Mr Edwards denies the charges, maintaining he did not know about the money used to cover up the affair.
'Dumped in my lap'
Mrs Young's testimony opened the second week of the trial in Greensboro, North Carolina.
Her husband, Andrew, was a long-time Edwards aide, who was in charge of controlling the funds for the alleged cover-up.
He also agreed to pretend that the child of Rielle Hunter, Mr Edwards' mistress, was his own.
When asked on Monday why she had gone along with the plan, Mrs Young began to cry. The judge dismissed the jury to give her time to compose herself.
She said Mr Edwards had said the subterfuge was also necessary to prevent his cancer-stricken wife, Elizabeth, from finding out about the affair.
"I felt like everything had been dumped in my lap," she said once the jury returned.
"Everybody was on board but me... I didn't want the campaign to explode and for it to be my fault. I decided to live with a lie."
The conversation had occurred in her home as she, Mr Young and Ms Hunter spoke by phone to Mr Edwards.
Mrs Young told the jury she had doubts about taking cheques totalling $725,000 (£449,000) from Rachel "Bunny" Mellon, a wealthy supporter of the Edwards campaign, and using it to cover up the affair.
However, she told the court that Mr Edwards specifically had suggested the plan to deposit the money into an account in the name of the Youngs.
A federal $2,300 limit would have prevented Mrs Mellon from contributing further to the campaign, but Mr Edwards assured the couple the scheme was legal.
"I heard Mr John Edwards tell me on the phone that he checked with the campaign lawyers and that this was legal," Mrs Young said.
Mr Young, who was granted immunity from prosecution for testifying, acknowledged he used $1m of the total $1.2m in payments from Mrs Mellon and another donor for his own personal use.