Police investigate Kentucky Derby death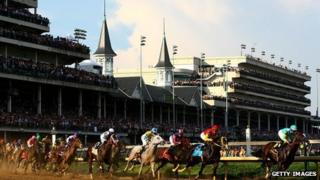 A man found dead in a stable barn after the running of the famed US horse race the Kentucky Derby may have been murdered, police say.
Guatemalan Adan Perez was discovered dead on Sunday morning as the dust settled on a dramatic race.
A post-mortem was being carried out, police said on Monday, confirming that there was evidence of "altercations" around the barn where he died.
The 138th Kentucky Derby attracted some 160,000 spectators.
They saw I'll Have Another storm to a last-gasp victory, overtaking front-runner Bodemeister at the very end of the sprint.
Mr Perez's body was found at about 05:00 the following morning in a barn not far from where the eventual winner was stabled.
Police quickly said "foul play" was suspected, and confirmed there were investigating the death as a homicide.
However, lead detective Lt Barry Wilkerson told reporters on Monday that there was still a lot of uncertainty about why, and how, Mr Perez had died.
"Most of it [the police investigation] at this point is that we are trying to work out why it occurred," Lt Wilkerson said.
Confirming "altercations" had taken place, Lt Wilkerson said officials at Louisville'ss Churchill Downs racecourse were trying to make contact with those thought to be involved.
"We are trying to piece this together," he added.