Captive US soldier's parents urge Guantanamo swap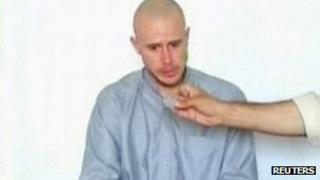 The parents of the only US soldier held by the Taliban have broken their silence to urge that he be swapped with prisoners in Guantanamo Bay.
Bob and Jani Bergdahl said they were frustrated at the pace of negotiations to return their son, Sgt Bowe Bergdahl.
He was captured in June 2009 and it is thought he is being held by a Taliban affiliate in north-west Pakistan.
The 26-year-old's release is part of talks between the US and the Taliban, which have been stalled since January.
The Bergdahls spoke to the Idaho Mountain Express, after almost three years of silence. It is thought the US military had encouraged the family to keep a low profile in order not to disrupt negotiations.
After a prisoner-of-war group asked Bob Bergdahl to speak in Washington on US Memorial Day, the family decided to go public to bring more attention to their son's captivity.
"We started out by trying to encourage the Taliban to take care of our son," he told the Express. "Now, we're worried that the government isn't concerned enough to put him on the [negotiating] table."
He told the New York Times: "We don't have faith in the US government being able to reconcile this."
State department negotiators had been trying to transfer five Taliban prisoners from Guantanamo Bay to house arrest in Qatar in exchange for Sgt Bergdahl, said US officials.
But the Taliban walked away from talks in March and that deal, which would have faced stiff political opposition in the US, has been in limbo ever since.
In a rare statement on Sgt Bergdahl, a Pentagon spokesman said the US was working to find and free the US soldier, using whatever methods needed.
"I wouldn't rule anything in or out," Colonel Dave Lapan told reporters.