Sheriff Joe Arpaio sued by justice department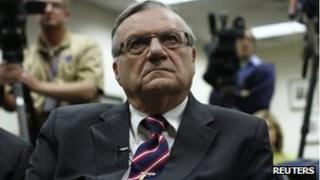 The US Department of Justice has sued an Arizona sheriff accused of racially profiling Latinos, among other alleged civil rights violations.
The lawsuit alleges sloppy police work and a disregard for minority rights by Maricopa County Sheriff Joe Arpaio.
US officials wanted the sheriff to agree to train his officers in how to perform duties such as traffic stops.
But Sheriff Arpaio, who denies the allegations, said the department's demands would nullify his authority.
The self-styled "toughest sherriff in the US", he shot to prominence by forcing prisoners to wear pink underwear.
Assistant US Attorney General Thomas Perez told a news conference on Thursday: "We have invariably been able to work collaboratively with law enforcement agencies to build better departments and safer communities."
He added that Sheriff Arpaio's Maricopa County office had been "a glaring exception".
In one case cited in the lawsuit, a sheriff's officer stopped a Latino woman - a US citizen who was five months pregnant - as she pulled into her driveway and insisted she sit on the hood of her car.
"When she refused, the officer grabbed her arms, pulled them behind her back, and slammed her, stomach first, into the vehicle three times," the suit said.
The woman failed to show she had motor insurance, but the matter was resolved when she provided such proof to a court, the lawsuit said.
In December, the justice department released a scathing report accusing his office of multiple offences, including punishing Hispanic jail inmates for speaking Spanish.
He previously apologised for his office's botching of sex-crime investigations, including child abuse allegations. When cases were reopened, 19 arrests were made.
Correspondents say Sheriff Arpaio appeared to be visibly angry at a news conference on Thursday.
"I am not going to surrender my office to the federal government. I will fight this to the bitter end."
On the eve of the lawsuit he said: "They're telling me how to run my organisation."
Maricopa County has also been under investigation for criminal abuse-of-power allegations since at least December 2009, an inquiry which has focused on the sheriff's anti-public corruption squad.