Ex-detective jailed for killing her love rival in 1986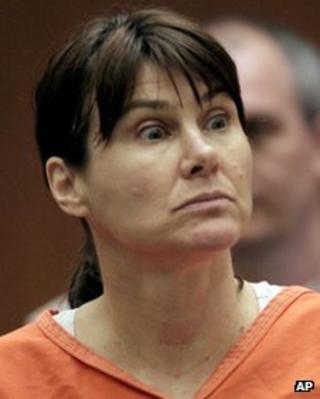 A former Los Angeles detective has been jailed for murdering her ex-lover's wife, 26 years later, after she was snared by a bite mark on her victim.
Stephanie Lazarus was found guilty in March in a case hinging on DNA from saliva in a wound on the arm of the victim, Sherri Rasmussen.
Lazarus, 52, received a sentence of 27 years to life for first-degree murder.
At the time of the killing in February 1986, detectives said robbers were responsible.
Prosecutors said Lazarus had been consumed with jealousy when her college sweetheart, John Ruetten, married Sherri Rasmussen.
Father's suspicions
The victim, a 29-year-old nurse, died after being bludgeoned and shot three times in the chest in the home she shared with her husband of three months.
At the time of the killing, Rasmussen's father had urged detectives to focus on Lazarus as a possible suspect.
But although the case file mentioned Lazarus' past relationship with Mr Ruetten, she was never a suspect at a time.
The murder was instead put down as the result of a botched burglary by unidentified Latino males who were suspected of attacking another woman in the area.
But during a cold-case review in 2009, undercover officers followed Lazarus and obtained a sample of her saliva to compare with DNA left at the original crime scene.
During the five-week trial, prosecutors suggested Lazarus had used her police training to cover her tracks. However, DNA was not used as a forensic tool at the time of the murder.
After the murder, Lazarus was promoted in the ranks of the Los Angeles Police Department, becoming a detective in charge of art forgeries and thefts.
Her lawyer pointed out that her personnel file was filled with commendations throughout her career.
Lazarus' husband attended most of the trial, along with other family members.
During Friday's sentencing in Los Angeles, Mr Ruetten told the judge: "The fact that Sherri's death occurred because she met and married me, brings me to my knees. I do not know... how to cope with this appalling fact."
Defence lawyers for Lazarus say they will appeal.