Judge refuses to drop charges against John Edwards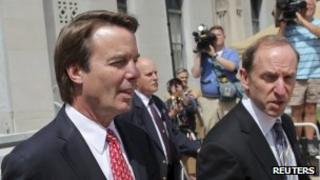 A US judge has refused to throw out charges against two-time former presidential candidate John Edwards.
Lawyers for Mr Edwards argued that the prosecution had failed to prove he intentionally violated the law.
The former Democratic North Carolina senator's lawyers will begin presenting their case on Monday.
The 58-year-old denies six counts of campaign finance law violations to hide a pregnant mistress, and faces up to 30 years in jail if convicted.
Prosecutors at the trial in Greensboro, North Carolina, rested their case on Thursday by playing a tape of a 2008 national television interview of Mr Edwards.
The video shows Mr Edwards confessing to his affair with Rielle Hunter, but denying having fathered her baby. At the time his late wife, Elizabeth Edwards, was fighting breast cancer.
In the ABC News recording, he also rejects suggestions that he used money from his campaign to hide an affair.
To prove Mr Edwards guilty, prosecutors must show that he knew about the money used in the cover-up, and also that he knew he was violating the law.