US sports car designer Carroll Shelby dies aged 89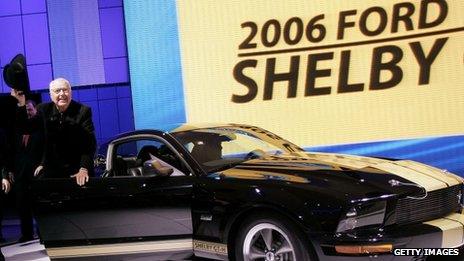 US car designer Carroll Shelby, who gave his name to the famous Shelby Cobra sports car, has died aged 89.
His company, Carroll Shelby International, said Mr Shelby died at a hospital in Dallas, Texas.
Mr Shelby, who had a long and varied career, had a heart transplant in 1990 and a kidney transplant in 1996.
The former chicken farmer first made his name as a successful racing car driver, winning dozens of races in the 1950s.
Among them was the gruelling 24-hour Le Mans race in France which he won with teammate Roy Salvadori in 1959.
But after being diagnosed with a serious heart condition he turned his attention to designing high-powered "muscle cars".
In 1962 Mr Shelby test-drove the AC 260 roadster, the car made with a Ford engine that would become the Shelby Cobra.
The Cobra, which also used a British sports car chassis, was the fastest production model ever made when it was displayed at the New York Auto Show in 1962.
Ford later asked Mr Shelby to develop a high-performance Mustang.
His collaboration with Ford ended in 1970, and he went on to work with Chrysler and General Motors until teaming up with Ford again in 2001.
In 2007, an 800-horsepower 1966 Cobra - once Mr Shelby's personal car - sold for $5.5m (£3.4m) at auction, a record for a US car.
"It's a special car," he told the crowd before the sale. "It would do just over three seconds to 60 (mph), 40 years ago."
When the 1970s energy crisis hit the market for petrol-guzzling high-performance cars, Mr Shelby went to Africa where he operated a safari company for some years.
Doctors did not immediately release a cause of death, although Mr Shelby was recently admitted to hospital with pneumonia, according to his Facebook page.
Mr Shelby is survived by his wife, Cleo, three children, six grandchildren and four great-grandchildren.
Related Internet Links
The BBC is not responsible for the content of external sites.