George Zimmerman 'had broken nose', medical report says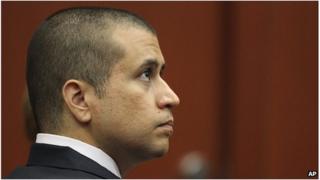 Florida murder suspect George Zimmerman had a pair of black eyes, a fractured nose and cuts to his head when examined following the death of teenager Trayvon Martin, US reports say.
Mr Zimmerman was examined the day after February's fatal shooting, reports said, giving details of the findings.
He has always maintained he acted in self-defence on the night he shot and killed Trayvon Martin.
He denies a charge of second-degree murder, and is currently free on bail.
According to documents obtained ABC News that are expected to be used by his defence in the event of a trial, Mr Zimmerman reported to a family doctor for a medical examination the morning after the shooting.
He was described as having a "closed fracture" of his nose and two lacerations on the back of his head, as well as the black eyes.
Previous evidence of an altercation between Trayvon Martin and Mr Zimmerman was limited to police CCTV footage from when the neighbourhood watch volunteer was brought to a police station after the shooting.
Footage released from his arrival showed what appeared to be blemishes on the back of his close-shaven head.
After being released without being arrested or charged that night, Mr Zimmerman visited the doctor the next morning seeking clearance to return to work, it is reported.
Correspondents say the medical report appears to bolster Mr Zimmerman's claims of self-defence, and is in line with previous statements made by his family.
'Fighting for his life'
In another development, CNN reported that an post-mortem examination of Trayvon Martin showed that the teenager had marks on his knuckles when he was shot.
The Martin family lawyer, Benjamin Crump, told CNN that finding was not a surprise.
"He was fighting for his life. Let's not forget that Trayvon Martin was fighting a man with a 9mm gun. We also have to remember that he didn't start this fight. George Zimmerman got out his car and pursued Trayvon Martin."
Florida police did not arrest Mr Zimmerman for six weeks after the shooting. Under the state's controversial "stand your ground" law the use of lethal force is allowed if a person feels seriously under threat.
The exact sequence of events leading to the teenager's death on 26 February remains hotly debated.
A series of emergency calls made by George Zimmerman emerged in the weeks after the killing, and a friend of Trayvon Martin said she heard screams while on the phone to the 17-year-old.
But a much wider cache of evidence, including medical records and CCTV footage, is expected to be scrutinised if the case goes to trial.