Montreal university classes disrupted by protesters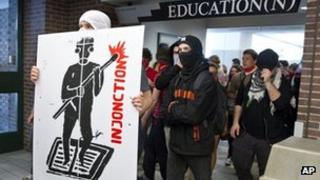 Student protesters have stormed a university in Montreal, disrupting classes the day they were due to resume, Canadian media has reported.
The activists, many wearing masks, arrived as classes were starting at the University of Quebec.
The university had obtained a court injunction allowing law students to resume classes amid an ongoing strike.
The stand-off between student groups and the provincial government over rising tuition fees began 14 weeks ago.
Chanting demonstrators marched through the halls of the university, CBC reported , while professors left their classrooms, effectively cancelling classes.
They carried drums and whistles and used a schedule to find classes in progress. In one classroom, protesters began flicking the lights on and off, shouting at the group inside.
Reports say that some male protesters took two female students by the arm and told them to get out.
CBC said the protesters numbered in the hundreds, although other reports said the figure was lower.
The association of law students is among the student groups continuing to boycott classes in protest against rising tuition fees, but some students wanted to restart classes.
So far, the university has not asked police to intervene.
More student protests are expected to take place in Montreal on Wednesday.