Mitt Romney campaign raises $40m in April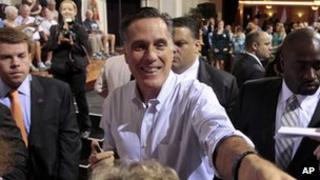 Presidential candidate Mitt Romney and the Republican Party raised $40.1m (£25.3m) in April, his campaign says, just short of President Barack Obama's April count of $43.6m.
The Republicans have a total of $61.4m in cash to hand, they said.
The figures do not include millions of dollars raised by independent support groups that back Mr Romney's candidacy.
Mr Obama will battle Mr Romney, the presumptive Republican nominee, in the US presidential election in November.
Like the Obama campaign, most donations to the Romney campaign were worth $250 or less, coming to a total $10.1m.
The figures were released the day after the Obama campaign revealed their monthly finances. Both campaigns were required to file financial reports for April by midnight on Sunday.
"We are pleased with the strong support we have received from Americans across the country who are looking for new leadership in the White House," Romney campaign finance chairman Spencer Zwick said.
Mr Romney's April numbers are a sharp increase on his fundraising totals in March, when he raised about $12.5m while the Republican primary battle was still raging.
Meanwhile, Mr Obama raised $53m during the same month.
April was the first month of major fundraising for November's general election, when Mr Romney began raising money with the Republican Party.