US Airways jet lands in Bangor amid 'implant' alert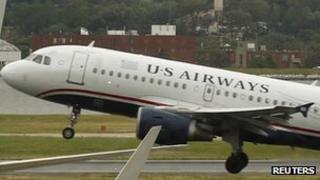 A US plane bound for Charlotte, North Carolina, made an early landing after a woman claimed she was carrying a surgically implanted device.
US Airways flight 787 from Paris Charles de Gaulle landed in Bangor, Maine, after two F-15 jets were scrambled in response to the incident.
Doctors examined the Cameroon-born French woman but found no recent scars, Congressman Peter King's office said.
The Boeing 767, carrying 179 passengers and nine crew, landed around noon.
An FBI spokesman said there was no indication that the flight was in danger before it was diverted to Bangor.
Passenger's note
Last year, US officials warned airlines that terror groups were studying how to foil airport security by implanting bombs inside humans.
Tuesday's security alert was raised when the woman handed a note to flight attendants saying that she had a device surgically implanted, Mr King's office said.
She had reportedly boarded the plane with no luggage and was due to visit the US for 10 days, added the office of Mr King, who chairs the House of Representatives' Committee on Homeland Security.
The plane was met by state, local and federal law enforcement officers in Bangor. FBI spokesman Greg Comcowich declined to say whether anyone was in custody.
CNN quoted a federal law enforcement source as saying the woman was likely to received a psychological evaluation, and posed "basically no threat".
Transportation Security Administration spokeswoman Sterling Payne told the BBC: "TSA is aware of reports of a passenger who exhibited suspicious behaviour during flight.
"Out of an abundance of caution the flight was diverted to Bangor where it was met by law enforcement.
"The passenger in question is being interviewed by US Customs and Border Protection officers and all other passengers are currently waiting to re-board the flight."
The flight continued its journey to Charlotte about three and a half hours later, after passengers had been interviewed by the FBI.