No charges for woman who caused US jet 'implant' alert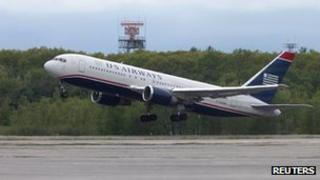 A French woman who caused a security scare on a US airliner on Tuesday by claiming to have a surgically-implanted device will be released without charge, a US prosecutor says.
The North Carolina-bound US Airways flight was diverted to Bangor, Maine, after Lucie Zeeko Marigot, 41, alerted attendants to the alleged device.
Doctors examining her on board found no apparent sign of an implant.
Ms Marigot, who was arrested after the aircraft landed, will now be sent home.
The Cameroonian-born woman will be turned over to the US border agency before being returned to France, US federal prosecutor Thomas Delahanty said.
Flight 787 was travelling from Paris to Charlotte, North Carolina, when Ms Marigot passed a note in French to flight attendants saying she had an object in her that "was out of control", along with a book in French telling her personal story, officials said.
In the note, she said she had been wronged by a "group of doctors" and requested medical help from President Barack Obama and the American people, Mr Delahanty was quoted saying by the Associated Press news agency.
Two doctors examined her on board and found no visible scars indicating an implant, officials said.
The plane, with 179 passengers on board, was diverted to Bangor, Maine and two US Air Force F-15 fighter jets were scrambled as a precautionary measure.
The FBI later concluded that Ms Marigot had posed no danger to the plane or the passengers.
The flight continued its journey to Charlotte about three-and-a-half hours later.