Student groups challenge Quebec protest law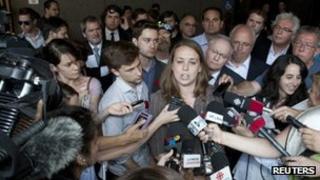 Quebec student groups have launched a legal challenge against the province's controversial protest law, saying it is unconstitutional.
Two motions were filed in Quebec Superior Court in Montreal on Friday, including a request for the law to be suspended until a ruling is made.
Students have been protesting against a rise in university fees since February.
Bill 78 was designed to curb demonstrations but they have escalated since its passage last week.
A meeting between the government of Quebec Premier Jean Charest and student groups is expected as early as next week.
Mass arrests
In a press conference on Friday, Leo Bureau-Blouin, leader of the student group FECQ, said he expected the law would make its way to the Supreme Court of Canada quickly.
"We are doing this because we are genuinely worried that basic important rights such as freedom of association, freedom of expression and the right to hold peaceful demonstrations are being attacked," Mr Bureau-Blouin told reporters.
Arguments for the injunction against the law are to be heard on 30 May.
Environmental and union groups have joined the legal challenge.
On Wednesday night, nearly 700 people were arrested in Montreal and Quebec City under the new law.
Those arrests were part of an estimated 2,500 since the protests began.
The bill requires eight hours notification before public demonstrations, including the route, time and duration of the protest.
It also bans demonstrations within 50m (165ft) of university buildings. Student leaders blocking access to university buildings could be fined as much as $35,000 (£22,000), while student groups face penalties of up to $125,000.
Quebec currently has the lowest tuition rates in Canada, but the government's proposal would raise the fees by 80%, in increments of $254 per year (£160) for seven years.