Tropical storm Beryl disrupts long weekend on US coast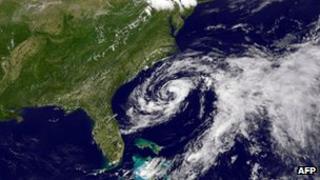 Tropical storm Beryl has brought heavy rain and outages as it hit the south-eastern coast of the US.
Winds of 70mph (113km/h) - close to hurricane strength - left about 23,000 households with no power in parts of Florida and Georgia.
A number of remembrance services planned for Memorial Day, a US national holiday, were cancelled and holiday-goers were warned to stay inland.
Beryl is the second major storm of the hurricane season, which starts in June.
It is not unusual to see tropical storms earlier than the start of the official season, which lasts until the end of November.
Beryl made landfall after midnight on Monday, and is due to weaken as it tracks inland.
By Monday morning, the storm's wind speeds had reduced to about 40mph and it was downgraded to a tropical depression.
'Stay alert'
Winds over 74mph would have made the storm a Category 1 hurricane.
In Jacksonville, Florida, city officials said about 20,000 households had lost power, while Georgia utility officials said about 3,000 customers had no electricity.
A tropical storm warning was in effect in coastal areas between Flagler Beach, Florida, and the Savannah River, Georgia. Meanwhile, flood warnings were issued in the Jacksonville area.
Some areas were forecast to receive as much as 12in (30.5cm) of rainfall.
Forecasters said storm surge and high tide could bring up to 4ft (1.2m) of flooding in the area, while southern parts of South Carolina could see up to 2ft of flooding.
On Sunday, the Coast Guard was searching for a swimmer who went missing in Folly Beach, South Carolina, after it was reported that a person was seen struggling in the turbulent water, the Charleston Post and Courier reported .
In Florida, Governor Rick Scott asked residents to "stay alert and aware".
But emergency management officials have said that although the rain briefly flooded some roads and brought down trees, the downpour was long overdue on the Georgia coast, which has been suffering a drought.
"We've needed it for a long time," said Ray Parker, an emergency management official in McIntosh County, Georgia.
"We were lucky that we didn't get 3 to 4 inches in 30 minutes. Most of it soaked right in before it had a chance to run off. It fell on an empty sponge."
Mr Parker said the worst damage seen in his county was caused by trees falling on two houses.