Students say 'deal is close' with Quebec government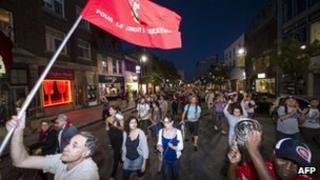 Student groups say they are close to reaching a deal with the provincial government of Quebec, Canada, on the second day of talks aimed at ending a standoff over tuition fee hikes.
Students have said the fees and an emergency law aimed at curbing the protests must be up for discussion.
The Quebec government insists it will not change its mind on the fee hike.
The government aims to raise the fees by 80%, in increments of $254 (£160) per year for seven years.
Quebec currently has the lowest tuition rates in Canada.
On Tuesday, student leader Leo Bureau-Blouin told the Associated Press that the parties in Quebec City were close to an agreement, saying the education minister would introduce a proposal later in the day.
"We hope this offer is substantial," he said. "What this means exactly we'll find out in the next hours."
'Crisis'
On Tuesday, Education Minister Michelle Courchesne said she was satisfied by the students' openness during talks.
"Responsibilities must be shared to obtain results," Ms Courchesne said.
Quebec Premier Jean Charest attended the talks on Monday evening, after months of calls for him to join the negotiations.
Mr Charest said he participated because discussions had reached a new stage.
"We all want to be able to turn the page," he said.
Gabriel Nadeau-Dubois, spokesman for Classe, a student group, told the Montreal Gazette that Mr Charest's attendance shows "the government is recognising the importance of the student crisis".
Another student leader, Martine Desjardins, said Mr Charest stayed for about 30 minutes and "did not have a lot of answers" during Monday's six hours of talks.
On Monday night protesters gathered outside the building where the talks were taking place and 84 people were arrested, the Ottawa Citizen newspaper reported .
Some 2,500 arrests have been made since the protests began in February, and about 165,000 students have boycotted classes.
More than 1,000 people were arrested last week following the passage of Bill 78, a controversial law designed to stifle protest.
Student groups and their union backers have mounted a legal challenge against the much-criticised legislation.
Ms Courchesne said she did not know how long the talks would last.
A tentative deal was reached after marathon talks between the government and students a month ago, but it soon fell apart.
There is renewed urgency to Monday's discussions as the government would like to reach an agreement with the student groups before Montreal's summer tourism season gets under way, correspondents say.