Canadian Tory party receives 'human foot' in the post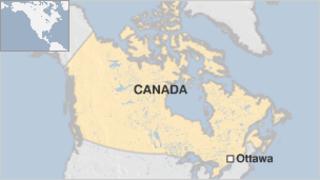 Police in the Canadian capital, Ottawa, are investigating what appears to be a human foot, sent to the headquarters of the governing federal Conservative Party.
Officers called in the hazardous materials unit after apparent bloodstains were seen on the package.
The major crimes unit has now taken the case over to investigate where the item came from.
An X-ray suggested it was a human foot.
The package, delivered by Canada Post, was not addressed to a specific person, but to the Conservative Party of Canada, police said.
They were called after the woman at the office's front desk partially opened the package, reports say.