Profile: John Edwards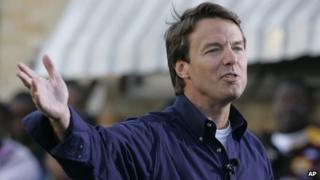 John Edwards, a Democratic senator from North Carolina, ran twice for the US presidency and was once considered a rising star in his party.
He is a former trial lawyer and self-made millionaire who frequently highlighted his humble beginnings on the campaign trail.
After two failed bids, he faced a campaign finance corruption trial that delved into details of an affair and its subsequent cover-up that took place during his 2008 run for the White House.
He faced up to 30 years in jail and $1.5m (£945,000) in fines for allegedly using money from two wealthy supporters to pay for private jets, hotels and medical care for his mistress, the campaign's videographer.
But the outcome of the trial was inconclusive, as Mr Edwards was cleared on one count, with a mistrial declared on the other charges.
Summation star
John Edwards was raised in North Carolina, the son of a mill worker and a postal employee.
He became the first member of his family to attend university, and graduated with a law degree from the University of North Carolina at Chapel Hill.
Mr Edwards fought a number of high-profile personal-injury suits against large companies, winning millions of dollars in compensation and damages for his clients.
His summation in a 1997 case earned praise as "the most impressive legal performance I have ever seen" from Mike Dayton, editor of North Carolina Lawyers Weekly, in a Washington Monthly magazine article highlighting Mr Edwards as a politician to watch.
He had turned to politics in the late 1990s, after his eldest son Wade was killed in a car crash at the age of 16. He has three surviving children.
Mr Edwards defeated incumbent Senator Duncan "Lauch" Faircloth of North Carolina in 1998.
He positioned himself as an advocate for health care and immigration reform and as an opponent of the Bush tax cuts.
Mr Edwards backed the Iraq war and voted for the controversial Patriot Act, which expanded government powers in the wake of the 11 September 2001 attacks.
Two presidential bids
He campaigned for his party's nomination for president in 2004, losing out to Senator John Kerry.
Mr Edwards's strong performance in the primary led Mr Kerry to tap him as his vice-presidential pick.
After he and Mr Kerry were defeated in 2004, Mr Edwards became the head of an anti-poverty centre at his alma mater.
He also served as a consultant to a hedge fund firm, but had already begun signalling his intention to run for president again.
He joined a strong 2008 field, including then-senators Hillary Clinton and Barack Obama.
Despite courting key constituencies such as union members, floating proposals on health care and repudiating his vote in favour of the Iraq war - it was the news that his wife Elizabeth's cancer had returned that grabbed the headlines in the early stages of his campaign.
Ms Edwards embraced an outspoken role in a campaign, backing up Mr Edwards' stated intention to fight special interest groups in Washington.
But Ms Edwards, who had been treated for breast cancer after the 2004 presidential campaign, announced in March 2007 that her cancer had returned and was "incurable" but "completely treatable".
While he had strong performances in some early polls, Mr Edwards failed to raise as much money as his rivals and struggled to make an impact.
Despite a better-than-expected second-place finish in Iowa caucuses, where he invested much of his campaigning effort, he came in third in all subsequent contests.
He withdrew from the race on 30 January 2008.
Campaign affairs
Mr Edwards had been plagued by extramarital affair rumours as early as October 2007 when the National Enquirer named a campaign videographer, Rielle Hunter, as his mistress and reported she was pregnant.
He denied any affair with Ms Hunter. A campaign aide, Andrew Young, said he was the father of her child. Ms Hunter gave birth to a daughter, Frances Quinn, in February 2008.
That August, Mr Edwards admitted to an affair with Ms Hunter but denied he was was Quinn's father.
That changed when Mr Young announced he was publishing a tell-all book about his time with the Edwards campaign. The former presidential candidate admitted paternity in January 2010. Shortly after, he and his wife separated.
Elizabeth Edwards died of cancer in December of that year.
Meanwhile, a grand jury in North Carolina had been investigating the campaign finance case against Mr Edwards since 2009.
In June 2011, they indicted the former Senator for using contributions from wealthy supporters to cover-up his affair and Ms Hunter's child while running for president.
Beginning in April 2012 the trial exposed details of Mr Edwards' affair and the reaction of his late-wife.
Andrew Young, considered the prosecution's star witness, testified that the candidate had directed him to manage the money to cover-up the affair and had asked Mr Young to claim paternity.
Mr Edwards did not testify during the trial, but his defence maintained he was innocent of the charges.
After nine days of deliberation, the jury found Mr Edwards not guilty on one count, but were hung on the other five charges. The US Department of Justice will decide whether or not he will be tried again on the remaining counts.