French hunt for 'killer' porn actor Luka Rocco Magnotta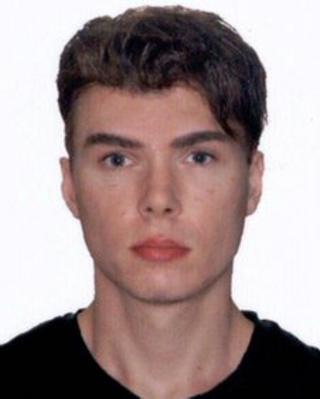 French police are hunting a Canadian porn actor wanted for the murder and dismemberment of his lover.
Luka Rocco Magnotta, 29, is thought to have flown from Montreal to Paris last weekend, say French police officials.
The suspect's alleged victim was Jun Lin, a 33-year-old Chinese student, Montreal police told the BBC.
A hand and a foot were posted to political parties in Ottawa on Tuesday and a headless torso was found behind Mr Magnotta's Montreal flat.
Although results have not yet emerged from forensic tests on the remains, police say they are all but certain the body parts were Jun Lin's.
Interpol issued a Red Notice wanted-persons alert on Thursday for Mr Magnotta.
Canadian police said they suspected he may have left the country based on evidence found during a search of his flat, and a blog post he wrote about how to disappear.
'Sad news'
A senior French police official told the Associated Press news agency he was certain that Mr Magnotta was currently in France.
But another French police source told AFP news agency: "French police have no certainty about his presence or not in France."
And Montreal Police Commander Ian Lafreniere said: "There's even been talk he might have returned to Canada under another identity."
Jun Lin, from the city of Wuhan, in China's Hubei province, had been living in Montreal since July 2011.
He was enrolled as an undergraduate in the engineering and computer science faculty at Montreal's Concordia University, said a spokeswoman for the college.
Although Jun Lin did not have family in Montreal, he was reported missing by a relative on Tuesday, Cmdr Lafreniere said. He was last seen on 24 May.
"Thanks to the Chinese embassy, we have been able to reach the family with the sad news of what happened," Mr Lafreniere added.
'Bad hair day'
On Tuesday a foot was posted to the Conservative Party's offices, and police intercepted a second parcel, containing a hand, addressed to the Liberal Party's offices.
One of Prime Minister Stephen Harper's political advisers opened the bloodstained box containing the foot.
A video posted online, in which a man apparently uses an ice pick to kill another man, is believed to show Jun Lin's murder, investigators say.
The suspect, also known as Eric Clinton Newman and Vladimir Romanov, had reportedly worked as a bisexual porn actor and model.
The wanted man's neighbour, meanwhile, said Mr Magnotta had taken an interest in his career as an actor, especially his role as a serial killer in a 1980 horror film called Terror Train.
"I was a killer who killed 11 people in this film, so he was rather interested in my career," said Derek MacKinnon.
Mr MacKinnon added that the last time they had seen each other, on 25 May, the usually well-groomed Mr Magnotta seemed to be having "a bad hair day".
"It was red, and he normally is dark," he said. "It looked like a really bad wig."
Media reports have linked Mr Magnotta to a video posted online in 2010 that showed two kittens being placed in a plastic bag and suffocated, and another of a kitten being fed to a snake.