Jerry Sandusky trial: Nine jurors selected on first day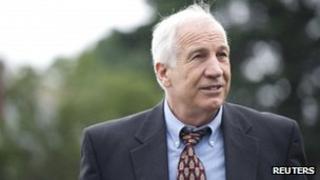 Nine jurors have so far been selected for the US trial of ex-football coach Jerry Sandusky for sexually abusing 10 boys at Penn State University.
A judge has ruled that his accusers must use their real names during the trial, including when giving testimony.
Mr Sandusky, 68, faces 52 counts of alleged abuse of over the course of 15 years, including periods when he served as assistant coach at Penn State.
He has admitted showering with young boys but denies abuse.
Jury selection is due to continue on Wednesday. Out of a pool of 220 potential jurors, 12 people will be selected to the jury. All potential jurors are residents of Centre County, where the university is located.
The trial is scheduled to begin next Monday.
Mr Sandusky's arrest in November prompted a crisis at the university, which boasts one of the proudest college football followings in the nation.
The team's veteran head coach, Joe Paterno, was fired from his position after accusations of a cover-up began to emerge.
University President Graham Spanier was also sacked amid the unfolding scandal.
'Branded'
Correspondents say the first day of jury selection highlighted the close links between Mr Sandusky, the university and the surrounding community.
One of the first jurors to be selected has held a season ticket at Penn State since the 70s said the father of a key trial witness, Mike McQueary, had worked with her husband.
But the judge said that such connections "can't be avoided". He also told possible jurors they would not be sequestered during the trial.
The decision to require Mr Sandusky's accusers to use their real names in court was a pre-trial distraction for those preparing to take the stand.
A lawyer for one of Mr Sandusky's accusers says his client still plans to testify during the trial, but that having his name made public in open court could make it harder for him to live his life.
"It's almost as if he's being branded with a scarlet letter," Ben Andreozzi said of his client. "This is something he may not ever be able to escape from - 'Oh, he's one of Jerry Sandusky's victims'."
Judge John Cleland ruled against accusers using pseudonyms but said their identities would not be made public during jury selection, which begins on Tuesday.
"Arguably any victim of any crime would prefer not to appear in court," Mr Cleland wrote in his decision. "But we ask citizens to do that every day in courts across the nation."
He described the requests to use pseudonyms as "complicated, even controversial".
The judge also ruled that Twitter and email reporting of courtroom events would not be allowed, despite requests from a host of US media organisations.
Several of the accusers met Mr Sandusky through The Second Mile Foundation, his charity for at-risk children.
Additional alleged victims have come forward since Mr Sandusky's initial arrest.