California gay marriage ban nears US Supreme Court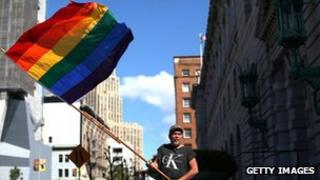 Backers of California's same-sex marriage ban say they will appeal to US Supreme Court, opening up the chance of a binding ruling on the issue.
The move comes after a US federal appeal court declined to reconsider its earlier decision striking down the ban.
Gay marriage supporters also welcomed the news.
Last week, another appeal court declared unconstitutional part of a federal law that bans recognition of same-sex marriage.
The timing of both cases means it is possible they will be heard together at the Supreme Court, although new cases are not likely to be heard until October.
Andrew Pugno, a lawyer for the ban's sponsors, said they would "promptly file our appeal to the nation's highest court".
"Our case has entered the final chapter," said Chad Griffin, president of American Foundation for Equal Rights, which is funding the effort to overturn the ban.
Same-sex marriages were briefly legal in California before a statewide referendum in 2008, known as Proposition 8.
The US 9th Circuit Court of Appeals ruled in February that California's "Prop 8" ban discriminated against gays and lesbians by removing an existing right, but limited its decision to California.
Backers had appealed to have their case heard in a wider panel in the appeals court, but were denied.
Same-sex marriage is legal in eight states and the District of Columbia, but has been expressly banned in many other states.