Toronto plastic bag ban surprises Mayor Rob Ford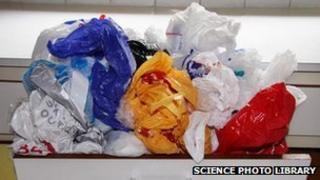 Toronto has become the first major city in Canada to opt for an outright ban on the use of plastic bags.
The ban was approved by the city council despite Mayor Rob Ford originally only seeking to overturn an existing five cent levy.
Plastic bag bans already exist in Seattle, San Francisco and in Fort McMurray, Alberta.
Mr Ford called the move - proposed for vote only during the debate - the "dumbest thing council has done".
"And council's done some dumb things, let me tell you," he told a Canadian talk radio programme on Thursday.
The ban, which passed 24-20, was introduced by Councillor David Shiner, an ally of Mr Ford.
He said the idea came to him as he read emails about the fee and listened to debate.
"So many other jurisdictions don't permit these bags to be used and there are so many other alternatives," Mr Shiner told CBC News .
"The bigger issue is what's happening with 250 million bags that still end up in our landfill every year," he said.
The five-cent fee will end on 1 July, but the outright ban will not start until 1 January 2013 - allowing stores six months to give out plastic bags free.