US commerce secretary John Bryson in hit-and-run probe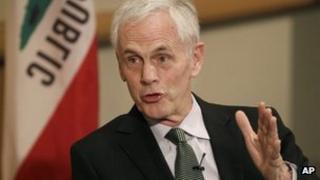 A member of the US cabinet is being investigated by police after being involved in a series of car crashes in California, including a hit-and-run.
Police say Secretary of Commerce John Bryson caused one crash. He was found unconscious in his car after another.
A spokeswoman said he suffered a "seizure" at the time of Saturday's three collisions near Los Angeles.
Police said there was no initial indication of alcohol or drug use and no charges have yet been filed.
Mr Bryson, an ex-Edison International chairman, took office last October.
'Medical condition'
A media release from San Gabriel police and the Los Angeles County Sheriff's Department said initial investigations showed the first crash was caused by Mr Bryson, 68.
It said his Lexus struck a Buick that was waiting for a train to pass in the city of San Gabriel.
Mr Bryson spoke to the three male occupants then left the scene, apparently hitting the car again as he did so, the media release said.
The Buick then followed Mr Bryson's Lexus and the occupants called for police assistance.
Mr Bryson was then involved in a collision with a Honda a few minutes later as he crossed into the nearby city of Rosemead, where he was found alone and unconscious behind the wheel.
He was alleged to have caused that crash as well, but investigations are at a preliminary stage, police said.
The San Gabriel incident was being investigated as a felony hit-and-run.
There were no serious injuries to the passengers in the Buick or the Honda, and Mr Bryson was treated for non-life-threatening injuries, remaining in hospital overnight on Saturday.
In a statement on Monday, a Department of Commerce official said he suffered a "seizure" in connection with the accidents. He has now returned to Washington, the official said.
Mr Bryson's Lexus and the Honda suffered minor damage, police said.
They said all parties involved had been co-operative.
LA County Sheriff's Deputy Mark Pope told local radio that authorities understood that Mr Bryson had a "pre-existing medical condition".
Mr Bryson helped develop Edison International into a leading solar and wind power firm, and was confirmed as commerce secretary despite some conservative objections to his pro-environmental connections.