Jerry Sandusky: Penn State child abuse trial begins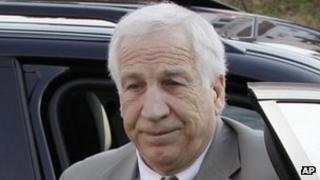 US prosecutors have described ex-college football coach Jerry Sandusky as a serial predator, on the first day of his sexual abuse trial.
Mr Sandusky, 68, denies 52 criminal counts of abusing of 10 boys over 15 years at Penn State university.
Defence lawyers said the witnesses were accusers, not victims, adding some may have a financial stake in the outcome.
His November arrest prompted a crisis at the university, which has a celebrated college football tradition.
The team's veteran head coach, Joe Paterno, was fired from his position after accusations of a cover-up began to emerge.
University President Graham Spanier was also sacked amid the unfolding scandal.
If convicted on all counts, Mr Sandusky could be sentenced to more than 500 years in prison.
'Perfect environment'
On Monday, prosecuting lawyer Joseph McGettigan III apologised to the jury for the graphic and disturbing testimony they would hear over the course of the trial.
He said Mr Sandusky took advantage of vulnerable boys without fathers or stable family situations through Second Mile, a charity the coach founded in 1977.
Mr McGettigan described Second Mile as the "perfect environment for the predatory paedophile" and told the jury the witnesses were people with "real experience".
"You will know they were violated," Mr McGettigan told the court.
But defence lawyers countered that it was not unusual for people Mr Sandusky knew to shower together - something Mr Sandusky has admitted to doing.
"In Jerry's culture, growing up in his generation, where he grew up, he's going to tell you it was routine for individuals to get showers together," defence lawyer Joe Amendola said.
"I suspect for those of you who might have been in athletics, it's routine."
The lawyer's comments appeared to suggest Mr Sandusky might take to the stand himself.
On Monday, the first accuser testified, saying what began as "soap battles" with Mr Sandusky in the shower escalated into inappropriate touching and oral sex.
Now a 28-year-old, the accuser said the alleged abuse began when he was 13, and that at times in Penn State locker room showers, Mr Sandusky moved so his head would be near his genitals, or vice versa.
As part of his testimony, letters from Mr Sandusky to the accuser were shown in court.
"I know that I have made my share of mistakes," one letter read. "However I hope that I will be able to say that I cared. There has been love in my heart."
Under cross-examination, the accuser told defence lawyers he felt responsible for what happened to other alleged victims because he didn't come forward earlier.
"I thought I was the only person," he said. "I just came to terms with that and just wanted to go away."
Defence lawyers also anticipated testimony from a former graduate assistant on the football team, Mike McQueary, who allegedly witnessed Mr Sandusky assaulting a boy in the university's changing room.
"We don't think that he lied. What we think is that he saw something and made assumptions," Mr Amendola said.
Several alleged victims, now aged between 18 and 28, are due to testify and will be publicly identified for the first time during the trial.
The wife and son of Joe Paterno, who died in January from lung cancer, may also be called to the stand.
Defence lawyers also hope to call a psychologist to testify about histrionic personality disorder. They said it would help explain that the content of the letters was consistent with the behaviour of people with the disorder.
Defence strategy
A jury of seven women and five men was selected last week from Centre County, where Penn State is located. Eight of them have ties to the university.
Reports from two grand jury investigations allege that Mr Sandusky sexually abused boys during his time as assistant football coach at Penn State and that incidents took place at Penn State's football facilities as well as his home.
Earlier, Mr Sandusky's lawyers tried to delay the trial, and on Friday the judge turned down a request to have some or all of the charges dismissed.
The state attorney general's office and federal authorities are also conducting separate investigations and correspondents say these could lead to further criminal charges.
Additional alleged victims have come forward since Mr Sandusky's initial arrest.
Two other Penn State administrators are awaiting trial for failing to report the suspected abuse and lying to the grand jury.