Taliban-funding Afghan drug lord jailed for life in US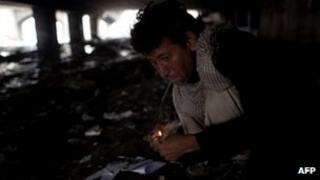 An Afghan man found guilty of funding the Taliban via one of the world's biggest heroin-trafficking rings has been sentenced to life in prison.
Haji Bagcho, 70, denied making heroin along the Afghanistan-Pakistan border and sending it to over 20 countries.
His lawyers pointed to Bagcho's poor health and asked for leniency in the sentencing.
But the US judge said Bagcho channelled an "astronomical" amount of drugs and the maximum sentence was appropriate.
He must also forfeit more than $250,000,000 (£160,000,000) in drug money and his property in Afghanistan.
"Haji Bagcho led a massive drug production and trafficking operation that supplied heroin in more than 20 countries, including the United States," Assistant Attorney General Lanny Breuer said .
"In 2006 alone, he conducted heroin transactions worth more than $250 million. Bagcho used the profits of his narcotics trafficking operation to support high-level Taliban commanders in Afghanistan. Today's life sentence is an appropriate punishment for one of the most notorious heroin-traffickers in the world."
Bagcho had been brought to the US in 2009. He was convicted on 13 March 2012 after a three-week trial on charges of conspiracy and distribution of heroin for illegal import into the US; and narco-terrorism.
He is the second person to be convicted under the narco-terrorism statute, which makes it a crime to use money from the sale of drugs to finance terrorist activities.
Bagcho had faced an earlier trial but the jury could not unanimously agree on a verdict.
The US Drug Enforcement Administration began investigating Bagcho in 2004, and worked with his assistant and an undercover Afghan policeman to gather information.