US yacht explosion hoax 'a convincing story'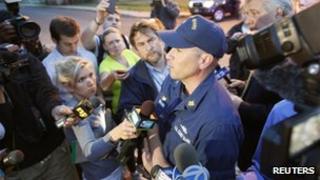 The US Coast Guard has released recordings from an emergency call describing an apparent boat explosion that turned out to be a hoax.
A Coast Guard spokesman said the caller had given "a convincing story", giving a blow-by-blow account of how the boat was filling with water.
Before declaring a hoax, more than 200 responders, helicopters and boats were deployed off the New Jersey coast.
The search lasted several hours on Monday before it was called off.
If found, whoever is responsible faces a maximum of five to 10 years in prison, a $250,000 fine and a reimbursement to the government for the cost of the search.
'No smoke'
Deputy Commander Gregory Hitchen told reporters on Tuesday that the emergency calls came from a radio on land, not on water, and an investigation had begun to determine who was responsible.
In one early transmission, the caller, who identified himself as the captain of the ship, told officials there were three dead and nine injured on a yacht 13 miles (21km) east of Sandy Hook, New Jersey. He said the survivors were floating on life rafts.
"We've had an explosion on-board - that's why we're taking on water," the caller said.
"I'm in about three-and-a-half feet of water on the bridge right now."
Cmdr Hitchen said that the call was different from many other hoax calls the Coast Guard receives: "Many hoax calls, you can tell immediately they're from children," he said.
After several hours of searching around the reported location, it became increasingly clear there was no explosion.
"When they arrived on scene, helicopters looking down, they would have seen life rafts," Cmdr Hitchen said. "And they would've seen smoke."
Offering a $3,500 reward for information leading to the hoaxer, Cmdr Hitchen said: "I've been here since 2007 and this is the biggest hoax in regard to the number of helicopters and folks who had actually responded to the scene."