Alabama shooting: Desmonte Leonard turns himself in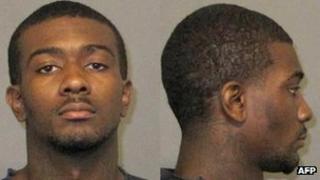 A man accused of shooting dead three people at a party has given himself up in Montgomery, Alabama after a three-day manhunt.
A defence lawyer said she arranged for Desmonte Leonard, 22, to hand himself in on Tuesday evening after being contacted by his family.
Police had spent hours scouring a house for the suspect earlier in the day.
Mr Leonard is charged with three counts of capital murder after the dispute broke out - reportedly over a woman.
The violence erupted on Saturday night at a pool party in University Heights, a complex in the university town of Auburn.
Two of those killed - Edward Christian and Ladarious Phillips - were former Auburn University football players. The third was Demario Pitts.
Mr Leonard is also accused of wounding three others.
'Trying case'
He handed himself in at about 20:00 local time on Tuesday (01:00 GMT Wednesday) at a federal courthouse in Montgomery, after defence lawyer Susan James picked him up from an unspecified location some 50 miles (80km) from Montgomery.
Just hours before Mr Leonard's surrender, police had conducted a minute search for the suspect in a Montgomery house after storming it armed with tear gas and assault rifles.
But after nine hours it became apparent that the suspect was not inside.
"It's been a trying case for all law enforcement involved," Auburn police chief Tommy Dawson told a news conference, according to the Associated Press news agency.
He said Mr Leonard was being booked into a jail in Montgomery and would be moved to Opelika, a town adjoining Auburn, for his first court appearance on Wednesday or Thursday.
Neither Mr Dawson nor Ms James were prepared to say where he had taken refuge.
But Ms James - who has not been retained to represent Mr Leonard - cautioned that "when the full story is told, it may sound different than the perception now".
In a statement, Auburn University president Jay Gogue urged the "campus and community" to "pull together to help those who are grieving and recovering".