Sandusky: Shower witness 'saw nothing inappropriate'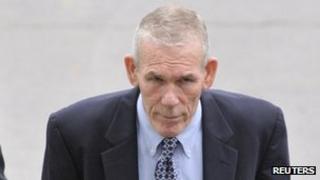 A witness in the Penn State University sex abuse case has said he and others were present when former coach Jerry Sandusky brought boys into the shower.
Former football player and assistant coach Dick Anderson told the court he never saw anything inappropriate.
Mr Sandusky is accused of sexually abusing 10 boys over 15 years.
Prosecutors withdrew one of 52 counts against him on Monday, saying the law he was charged under did not apply at the time of the alleged abuse.
The former football coach has denied any wrongdoing.
'An important guy'
On Monday, Mr Anderson said Mr Sandusky had a "wonderful reputation" in the community.
He said it was "not uncommon" for Mr Sandusky to share a shower with other football staff and younger boys, especially after working out with someone related to Second Mile, the charity he founded for under-privileged children.
His testimony came shortly after the prosecution called their final witness, the mother of one of Mr Sandusky's accusers.
She told the court that she felt responsible for the alleged abuse, saying she had pushed her son to spent more time with the coach.
"He was Jerry Sandusky," she said, describing her motivation. "He was an important guy."
Last week, her son told the court that he had hid and thrown away underwear after Mr Sandusky allegedly forced him to have anal sex, making him bleed.
During cross-examination, defence lawyer Joe Amendola pressed the accusers for further details of their allegations, as well as contacts they had with Mr Sandusky since the alleged abuse.
At least six accused said they told incorrect or incomplete stories in early contacts with police, while three told the court that some details only came back to them in recent years.