Pakistan officials 'hindering' US diplomats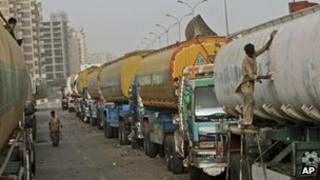 Rising obstruction of US envoys by officials in Pakistan is "significantly impairing" the work of US personnel there, a state department report says.
The findings said interference by Pakistani officials reached "new levels of intensity" in 2011.
The US raid on Osama Bin Laden's compound and a Nato air strike that killed 24 Pakistani soldiers were identified as turning points.
Recent months have seen a marked deterioration of US-Pakistan relations.
Pakistan withdrew military co-operation in the wake of the deadly November air strike, and correspondents say it marked a change in relations between the two countries.
The report, by the state department's inspector general, acknowledged that the Pakistani government had previously interfered with US officials on its soil.
However, it said the problem had become much worse and recommended that the issue should be taken up by the US with Pakistan at the highest levels of government.
"Official Pakistani obstructionism and harassment, an endemic problem in Pakistan, has increased to the point where it is significantly impairing mission operations and program implementation," the state department review said.
It described the harassment as "deliberate, wilful and systematic" and said examples of the obstruction included delays in getting visas, holding up shipments for construction projects and aid programmes, and surveillance of employees.
The report also claimed US officials were being singled out more than other international diplomats.
"While other diplomatic missions have experienced similar treatment, the United States is clearly the principal target," the report said.
The report was based on visits to the US missions in the Pakistani cities of Islamabad, Karachi, Peshawar, and Lahore.
It describes the raid on Bin Laden's compound as a double embarrassment for the government, saying it was evidence of "both Pakistani government incompetence and its inability to detect or defend against a military intervention".
"Events of the past year have rocked the US-Pakistani relationship and fundamentally altered the assumptions on which US engagement with Pakistan has been based since 2009," it added.