Chicago mobster Frank Calabrese Sr jewels up for sale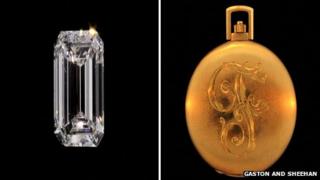 A collection of diamonds, watches and jewellery owned by a former Chicago mobster and worth an estimated $500,000 (£320,000) are to be sold at auction.
US authorities seized the valuables in a raid of Frank Calabrese Sr's house two years ago.
More than 250 diamonds were found in a stash hidden behind a family portrait, the Chicago Sun-Times reported .
Calabrese, 75 is in prison for life after being convicted in a racketeering trial and blamed for 13 murders.
His 2009 racketeering trial involved 18 decades-old murders.
The trial verdict also saw him ordered to pay $24m in compensation - and the money raised in the auction is to contribute to that.
Diamonds not forever
The precious items will be available from 10 to 24 July in an online sale held by Texas auctioneers Gaston and Sheeham.
'He's got lots of diamonds," auction house owner Bob Sheehan told the Associated Press.
Last year, the same auction house sold over 100 rare $500 and $1,000 bills from Calabrese's hoard. According to court records, that auction raised $245,860.
Correspondents say that it is not clear where Calabrese acquired all the items of jewellery that are to go on sale.
However, during the trial the former crime lord boasted that he earned millions of dollars on the streets and was known within his family for stashing valuables.
Calabrese, who used to accept jewellery instead of cash while making money as a loan shark, was described by his defence lawyer as "a collector".
Calabrese was tried alongside four other mobsters and a former Chicago policeman.