Healthcare: Viewpoint duel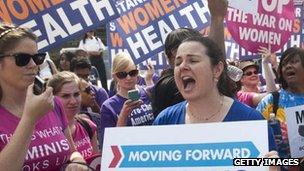 Commentator Sarah Wildman says the Affordable Care Act finally makes healthcare affordable and accessible for women.
Fact: Before the Affordable Care Act it was perfectly legal to charge women more for health insurance; indeed it was the norm.
Fact: Before ACA, pregnancy was a pre-existing condition. So was a Caesarean Section. Both were legal cause for denying care.
Fact: Before ACA, pre-natal care wasn't normal women's care. Some 87% of insurance plans on the individual market did not offer maternity or labour and delivery as part of their coverage package.
Women have been going into debt, declaring bankruptcy, ruining their lives; all to give birth.
Couple that in with coverage for young people up to the age of 26 on their parents' insurance. Add that together with the millions now who will be afforded preventative health care.
Now tell me how we don't need this legislation.
I'm always surprised by those who believe the Affordable Care Act will make life less affordable. I want to introduce them to the women who have written to me over the past three years, women who were unable to be insured for bearing children, and raising them.
Take the woman who wrote me from Nevada, a state that had nearly no maternity coverage for women on the individual market:
"We have purchased private insurance for over two years now paying close to $400 [£255] a month through United Golden Rule. We have been told there is absolutely no coverage for pregnancy with this insurance.
"I have met with numerous agents and researched extensively on the internet. Most companies in Nevada do not offer maternity coverage. Medically, I will need a C-section for the next child, which is apparently a pre-existing condition.
"We make too much to qualify for Medicaid (but we are not wealthy by any means). Another agent told me that having a child is a 'lifestyle choice' and not a medical issue. We are so lost with this!
"Nevada is highest in foreclosures, and one of the worst states for education and medical care. We are educated responsible people and we are up against a wall."
The Affordable Care Act changes all that. It ends what's called "Gender Rating" - which allowed insurance companies to charge women more for being women.
It mandates maternity coverage. It ensures that pre-existing conditions will not force a woman to go without coverage.
It ensures that insurance companies will no longer be allowed to turn down a woman for health coverage because she had a c-section.
The majority of Americans - some 63% - are covered by employer-based health insurance. Another handful qualify for Medicaid. Those of us on the individual market, at any given moment, are only 5-7% of the population.
But that number is misleading. It doesn't show those who are between jobs or starting new projects.
It is estimated that one in four Americans will, at some point, be on the individual market, looking for coverage.
Back in 2009, the National Women's Law Center detailed how broken health insurance had become and for women in particular. And that was especially true for women on the individual market, the women who were falling through the cracks.
Only 14 states required insurance companies to include pregnancy on their plans for individuals outside the employer-based system.
Who's uninsured?
Nearly

50

million, or

16.3%

of Americans are uninsured
By ethnicity, the rate of those who lack insurance is

15.4%

White

20.8%

Black

18.1%

Asian

30.7%

Hispanic
Source: US Census Bureau
Compare that to the 1978 Pregnancy Discrimination Act - legislation which ensured women working for companies of 50 employees or more would be covered for their pre-natal care, and labour and delivery.
Congress knew then that it was the right thing to do. It just didn't go far enough. And for over 30 years the situation got worse and worse.
Part of the problem, I believe, is that not enough women were speaking out.
When I told my story in 2009 - of being billed $22,000 for the prenatal care and delivery of my child, despite having insurance that covered maternity expenses - I was shocked to discover how many fraudulent plans were out there.
Plans that charged women over $1,000 a month to include maternity care - only to discover that care would be capped at $3,000 or less for an entire pregnancy, and hospital care.
Coverage that insurance companies were well aware did nothing to actually cover the costs incurred. Plans that insisted women pay extra fees for a full year before getting pregnant. Plans that didn't allow women to be pregnant at all.
Perhaps if people heard more of these stories - of the women who have waited to give birth, or have lost their homes because they gave birth, or have gone underwater in debt - this legislation would seem not just affordable, but an imperative.
Sarah Wildman is a visiting scholar at the International Reporting Project at Johns Hopkins School of Advanced International Studies.