South Dakota wildfire plane crash death toll hits four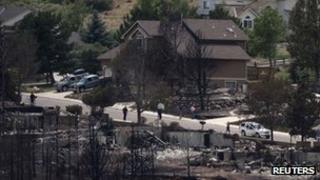 Four people were killed when a US military C-130 cargo plane crashed on Sunday while battling a wildfire in South Dakota, the US military says.
The victims were named as Lt Col Paul Mikeal, Maj Joseph McCormick, Maj Ryan David, and Sr Master Sgt Robert Cannon.
Meanwhile, six air tankers were cleared to resume firefighting flights after the fleet of seven aircraft was grounded in the wake of the crash.
Wildfires are raging across the western states of the US.
"There are no words to adequately say how this has affected all of us who knew these airmen and their families," Col Tony McMillan, Commander of the 145th Airlift Wing, North Carolina Air National Guard said.
"We pray for the loved ones of those who gave their lives, for the quick recovery of those who were hurt and for the strength to carry on."
Mr Mikeal's father-in-law, Ronald Partridge, said officials notified them early on Monday, adding that he was told only two crew members had survived.
'Very rugged'
Six North Carolina National Guard members were on board the C-130 when it crashed after dropping fire retardant on a wildfire in South Dakota's Black Hills region.
President Barack Obama said on Monday the air crews fighting the wildfires "repeatedly confront dangerous conditions in an effort to give firefighters on the ground a chance to contain these wildfires".
"Americans across the country share my concern for the well-being of the surviving members of the crew and my deep condolences to the families of those who lost their lives," he added.
The emergency management director of Fall River County, Frank Maynard, said the plane crashed in an area of "very, very rugged, straight up and straight down cliffs". He confirmed that rescuers had reached the wreckage.
Wildfires have been raging across the region in the states of Utah, Wyoming, Idaho, Nevada, New Mexico and Montana.