US TV actor Andy Griffith dies at age 86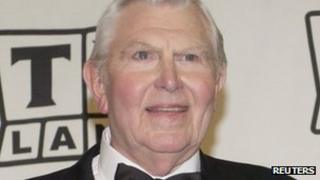 Andy Griffith, who portrayed a small-town sheriff on US 1960s sitcom The Andy Griffith Show, has died aged 86.
A family statement said Griffith passed away at his home in Manteo, North Carolina on Tuesday morning.
The actor received the Presidential Medal of Freedom, the highest US civilian award, in 2005.
Born in Mount Airy, North Carolina, Griffith starred in the popular eponymous comedy series as Sheriff Andy Taylor from 1960-68.
The show portrayed life in the quiet North Carolina town of Mayberry, where the sheriff had little crime to contend with. It generated several spin-off shows.
President's condolences
"Mr Griffith passed away this morning at his home peacefully and has been laid to rest on his beloved Roanoke Island," Dare County Sheriff Doug Doughtie told the Associated Press, reading from the family statement.
US President Barack Obama said he and First Lady Michelle Obama were saddened to hear about the actor's death.
"A performer of extraordinary talent, Andy was beloved by generations of fans and revered by entertainers who followed in his footsteps," the president said in a statement.
Griffith was a private man surrounded by friends who revealed little about his life.
The success of The Andy Griffith Show "put heavy pressure on him because everyone felt like he was their best friend", said his friend Craig Fincannon.
"With great grace, he handled the constant barrage of people wanting to talk to Andy Taylor."
Griffith, who married three times, said in an interview in 2007 that he was not as wise, or as nice, as the sheriff he had played on TV.
"But I guess you could say I created Andy Taylor," Griffith said. "Andy Taylor's the best part of my mind. The best part of me."
Griffith continued to act, gaining a second TV hit as defence lawyer Ben Matlock in the 1980s and 1990s.
He was nominated for a Tony award in 1956 and won a Grammy for his album of gospel hymns in 1996.
In 1992, he was inducted into the Academy of Television Arts Hall of Fame.