Ten children die during US Independence Day revelling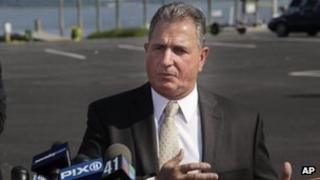 Ten children died in four unrelated incidents during Independence Day celebrations in the US.
In the first tragedy, two girls and a boy, all related, drowned in the Iowa river after becoming separated from family and friends.
Later, three children died after a boat full of firework-watchers capsized off Long Island in New York.
Meanwhile, four children were electrocuted while lake-swimming in Missouri and Tennessee.
In the Iowa incident, authorities in Marshalltown, in the central part of that state, searched for more than three hours before finding the bodies of a boy and a girl, both seven years old, and a nine-year-old girl.
Police Chief Mike Tupper said a drought had left the Iowa river ankle-deep in some places, but areas of more than 12ft (3.6m) deep remain.
Bodies in water
Meanwhile, in New York a 12-year-old boy and two girls, aged 11 and 8, were found inside the cabin of the boat which capsized.
Coast guards saved 24 people from the boat around 23:00 local time (03:00 GMT Thursday), about an hour after the emergency call came in.
The boat sank in 20ft of water and then drifted into an area 60ft deep. A boater told the Newsday newspaper he saw the boat tip over after it was hit by a wake.
"It was like in slow motion," Sammy Balasso said. "All of a sudden, a lot of bodies were in the water."
The 34ft Silverton boat, sailing near Long Island's Oyster Bay, originally had 27 people on board.
Private boats nearby helped those in the water after the boat capsized.
Nassau County Deputy Inspector Kenneth Lack said the rescue operation took a long time because "at night in an area like this, it is very dangerous".
In the two other fatal incidents:
Authorities suspect faulty wiring on a private dock was to blame for the electrocution of a sister and brother while swimming in Missouri's Lake of the Ozarks, the Kansas City Star reported
Defective houseboat wiring may be linked to an electric shock that killed a 10-year-old boy and his 11-year-old friend swimming at Cherokee Lake, Tennessee, the Knoxville News Sentinel reported