US kayaker's close encounter with great white shark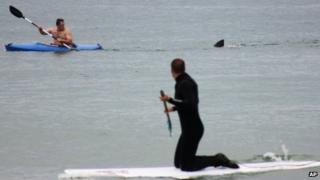 A kayaker is counting his lucky stars after a close encounter with a great white at a popular US resort.
Walter Szulc was paddling near a Cape Cod beach at the weekend when he saw the shark's dorsal fin just behind him.
Mr Szulc, 41, said he "paddled very fast" to shore in the eastern Massachusetts holiday spot.
Experts say the ocean predator was probably drawn by an increased local population of its favourite snack, seals.
"I saw the fin out of the water. I looked down and saw the body and realised that part of the shark was underneath me, and I just proceeded to paddle," Mr Szulc told the Associated Press news agency on Monday.
Beach briefly closed
Mr Szulc, who arrived with his family at Nauset Beach in Orleans on Saturday, said it had been his first time kayaking in the ocean.
His teenage daughter had mentioned recent local shark sightings, he added, although he did not expect to see one of the feared predators at such close quarters himself.
The beach was closed on Saturday after Mr Szulc's brush with the shark, about 45 metres (150ft) from shore.
It reopened on Sunday, and local officials said there had been no more shark sightings.
"There have been reports of sharks in the past, but usually they are farther out, not this close to the bathing beach," said town beach director Lee Miller.