Washington Monument closed until 2014 for repairs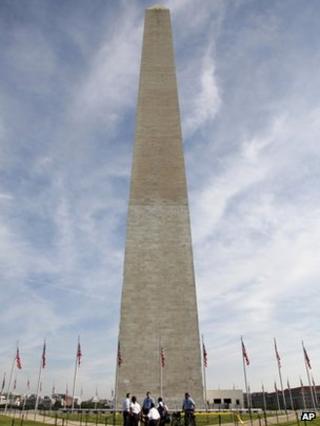 The Washington Monument is expected to stay closed until 2014 as crews work to repair the 555ft (169m) obelisk damaged in an earthquake last year.
The National Park Service said an assessment found the worst damage from 475ft to 530ft up the structure.
"It is difficult to get to, and it's difficult to repair," an NPS spokeswoman said.
The effort will require massive scaffolding around the monument, and is expected to cost $15m (£9.7m).
The Washington Monument - built to commemorate the first US president, George Washington - usually has about 700,000 visitors a year.
But the structure has been closed since 23 August 2011, when a 5.8-magnitude earthquake centred in the US state of Virginia caused deep cracks to form near the top and loosened some pieces of stone and mortar.
'On track'
The NPS opened up a bidding process on 29 June, and hopes to award a contract and begin work in September. Those repairs are expected to take 12-18 months.
Robert Vogel, the superintendent of the National Mall, said reopening the monument as soon as possible remained a priority.
"We're pretty much on track and trying to keep it moving as fast as it can," he said.
The US Congress has allocated half the budget for the repair project, and in January, Washington businessman David Rubenstein pledged another $7.5m to complete the work.
The scaffolding installed around the monument will be similar to that built during a restoration project in 1999 and 2000.
Officials also hope to include a decorative cover that was popular with the public when lit at night.
Park service officials may install a web camera near the top of the monument to show the work being done online.
Work on the monument began in 1848 but, after a 23-year hiatus - due in part to a lack of funds and the American Civil War - it was only finished in 1884.
It was the world's tallest structure for five years, until the completion of the Eiffel Tower in Paris, in 1889.