Obama and Romney duel over wealth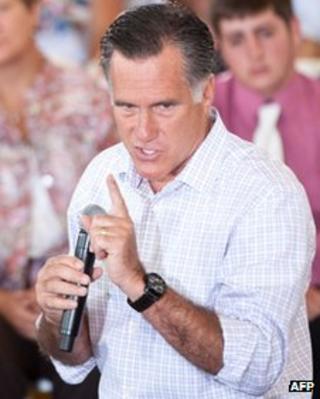 US President Barack Obama's re-election campaign is turning up the heat on Republican rival Mitt Romney over the issue of his offshore accounts.
Vice-President Joe Biden launched a stinging personal attack on Mr Romney, as he called on him to divulge more tax returns.
Mr Romney hit back, saying Mr Obama was merely trying to divert attention from his "weak" jobs record.
A new poll finds the rivals deadlocked, four months before the election.
The Obama campaign has posted a video on YouTube asking: "How long can Romney keep information on his investments in overseas tax havens secret? And why did he do it in the first place?"
'Nothing to hide'
Also on Tuesday, Mr Biden said in a speech to Latino leaders in Las Vegas: "He [Mr Romney] wants you to show your papers, but he won't show us his."
It was a line of attack that played upon Mr Romney's financial affairs, as well as his support for an Arizona law that allows police to check the immigration status of people they stop.
The US vice-president said the Republican candidate ought to follow the example of his father, George Romney, who released a dozen years of tax returns during his failed 1968 run for the presidency.
Romney aides accused the Obama camp of an "unfounded character assault".
Speaking about his offshore accounts to Radio Iowa, Mr Romney said: "I don't manage them. I don't even know where they are. That trustee follows all US laws.
"All the taxes are paid, as appropriate. All of them have been reported to the government. There's nothing hidden there."
The private equity tycoon - who is worth up to $250m (£160m), according to some estimates - has released a single year's federal return, for 2010, and an estimate for 2011.
Mr Romney's financial filings include at least six Cayman Island-based funds, worth up to $32m.
In suggesting that the former Massachusetts governor has been exploiting tax loopholes, Democrats are ultimately trying to portray him as out of touch with ordinary Americans, correspondents say.
Mr Obama, who released seven years of tax returns during his 2008 campaign, said on Monday in a television interview: "I think what's important if you're running for president is that the American people know who you are, what you've done and that you're an open book."
Tuesday's ABC News-Washington Post poll showed Mr Obama and Mr Romney level pegging on 47% each among registered voters.
US politics glossary
Use the dropdown for easy-to-understand explanations of political terms:
Air war
The battle between candidates to get as much advertising on television and radio as possible. In recent years, online adverts, which are cheaper and can be more carefully targeted, have grown increasingly important.
It found voters disapproved of Mr Obama's handling of the economy, immigration and healthcare, but viewed him as more likeable than his rival.
According to the survey, Americans expected - by a margin of 58-34% - that Mr Obama would ultimately defeat his Republican challenger in November's election.
The two rivals meanwhile continued to slug it out over Bush-era tax cuts that are due to expire at the end of this year.
Mr Obama wants the measure extended for those who make under $250,000 - but not for earnings above that amount.
Mr Romney and fellow Republicans say the tax cuts should be renewed for all Americans.
"The very idea of raising taxes on small businesses and job creators at the very time we need more jobs is the sort of thing only an extreme liberal can come up with," Mr Romney said.
But in a speech at a community college in Cedar Rapids, Iowa, Mr Obama said that wealthy Americans, himself included, did not need tax breaks.
"To give me another tax break, or to give Warren Buffett another tax break or to give Mitt Romney another tax break, that would cost... about a trillion dollars. And we can't afford it."