San Bernardino is third California city to go broke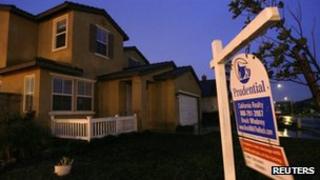 A third Californian city in as many weeks has gone bust, a fresh indication of the financial fault lines exposed by the recession in one of America's wealthiest states.
San Bernardino's city council voted by a majority on Tuesday night to seek bankruptcy protection.
The southern California city of about 210,000 faces a budget shortfall of nearly $46m (£30m), said officials.
Stockton and then Mammoth Lakes went broke in the last fortnight.
San Bernardino Mayor Patrick Morris was warned the city might not be able to pay its employees over the summer.
The city, located 60 miles (96km) east of Los Angeles, has been pummelled by a foreclosure crisis spawned by the housing crash, a now familiar story.
As well as having an estimated 5,000 homes repossessed, San Bernardino is struggling with an unemployment rate close to 16%, almost double the national average.
One resident accused city leaders before the vote of having squandered millions of tax dollars on transit projects and other wasteful schemes.
Kathy Mallon was quoted by the Los Angeles Times as saying : "This is lose, lose, lose all the way around. Residents will suffer. Businesses will suffer and city staff will suffer."
Stockton - a city of nearly 300,000 in California's Central Valley - filed last month for bankruptcy amid a $26m budget gap.
It was followed by Mammoth Lakes, a ski resort of about 8,000 residents, which has been saddled with a $43m legal judgment.
Before Stockton, a Californian city had not filed for bankruptcy since Vallejo in 2008.