Toronto survivor Jessica Ghawi killed in Aurora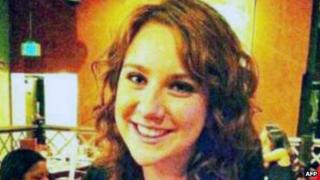 Friends and family of Jessica Ghawi, a 24-year-old aspiring sports broadcaster, have identified her as one of the 12 people killed in the Colorado shooting spree.
A survivor of another shooting at a shopping mall in Canada just one month ago, her death was confirmed by her brother on his blog .
Aurora police officials have not named her, saying they will not identify victims until families have been notified.
A local newspaper has begun to identify the 71 people in total who were shot, but its information is largely limited to those who were wounded.
'Who would do this?'
Jessica Ghawi, who wrote and tweeted as Jessica Redfield, had recently moved to Denver from Texas, and was working as a sports journalist.
"She was a beautiful soul, a Fan intern, and an aspiring sportscaster," Denver's 104.3 The Fan radio station posted on its Facebook page. She had recently received credentials to cover the Colorado Avalanche, Denver's professional hockey team, the Aurora Sentinel reported.
She narrowly escaped another major shooting event, leaving a food court in Toronto's Eaton Center minutes before a deadly shooting occurred there in June. She wrote about the experience on her blog.
"Who would go into a mall full of thousands of innocent people and open fire? Is this really the world we live in?"
Her last tweets were a conversation with a fellow sportswriter about going to see The Dark Knight Rises. The writer, Jesse Spector, wrote a memorial to Jessica on Friday.
"Jessica Redfield was going to be a sportscaster, and she was going to be a good one," Mr Spector wrote.
A family friend tweeted that after speaking to Jessica's mother, he began a hashtag on twitter to celebrate memories of her life "Please trend #RIPJessica," he wrote.