Sandusky sex-scandal: Penn State removes Paterno statue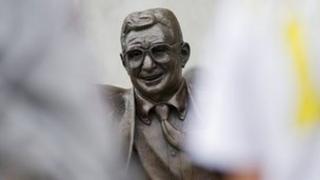 Penn State university has removed the statue of legendary US football coach Joe Paterno, who was alleged to have covered up sex attacks by a colleague.
The college said the statue had become a "lightning rod of controversy".
Jerry Sandusky, a coaching colleague of Paterno, was convicted of abusing 10 boys over a 15-year period.
The family of Paterno, who died earlier this year, deny that he helped cover up Sandusky's abuse. They said removing the statue "did not serve the victims".
In a statement, the family said the only way to help the victims was to "uncover the full truth".
Several other staff at the university are on trial for their part in the alleged cover-up.
Sandusky is awaiting sentencing after he was convicted last month of 45 separate offences. He is expected to be jailed for life.
'Obstacle to healing'
The statue of Paterno was put up in 2001 to honour him for a record-breaking run as coach.
He led Penn State to more wins than any other top division college football coach in US history.
But Penn State president Rodney Erickson said in a statement that the statue had become a "source of division and an obstacle to healing in our university and beyond".
"For that reason, I have decided that it is in the best interest of our university and public safety to remove the statue and store it in a secure location."
Paterno was fired from his job, which he had held for 46 years, days after Sandusky's arrest in November last year.
Police have said that Paterno fulfilled his minimum legal requirement in alerting the university authorities to an allegation that Sandusky had abused a 10-year-old boy.
But a report earlier this month found that leading figures at Penn State including Paterno had shown a "total disregard" for the safety of Sandusky's victims.
Paterno died from cancer in January aged 85.
He has remained a popular figure among students and the wider community despite the allegations against him.