Aurora shootings: James Holmes charged with 142 counts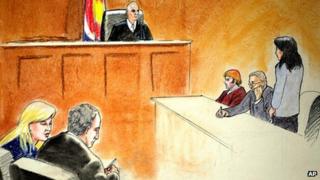 Alleged Colorado cinema gunman James Holmes has been formally charged with 142 criminal counts in one of America's worst mass shootings.
He faces 24 counts of murder, two for each of the 12 people killed, and 116 counts of attempted murder, two each for the 58 injured.
For each person killed he faces a count of murder with deliberation and one of murder with extreme indifference.
If convicted, the 24-year-old could face the death penalty.
He opened fire at random in a crowded movie theatre showing Batman film The Dark Knight Rises in Aurora near Denver on 20 July, according to the authorities.
The judge had banned cameras from Monday's hearing, so there were no pictures of the defendant, who appeared dazed during his first court appearance last week.
Defendant impassive
Mr Holmes was reportedly quiet and unemotional during the hearing. At times, he appeared to be trying to focus his eyes.
Denver Post reporter John Ingold tweeted that the accused appeared "not quite engaged, but listening".
When asked if he approved a delay in his bail hearing, the defendant leaned towards his lawyer and appeared to say: "OK," and then said: "Yes," quietly to the judge.
Survivors of the shooting and family members of those killed attended the hearing.
Several wore Batman shirts, including Don Lader, who was in the eighth row of the theatre when the shooting began. He told CNN he had seen the movie twice since that day.
Among the counts on the prosecutors' sheet , Mr Holmes faces a gun charge and another of possessing an explosive or incendiary device.
He allegedly wired his apartment with enough explosives to destroy the entire building had they been detonated. It took authorities several days to dismantle the booby traps.
Court documents filed on Friday by defence lawyers said the suspect had been under the care of a psychiatrist at the University of Colorado Denver, where he had been in the process of dropping out as a neuroscience PhD student.
Insanity defence?
Monday's hearing had also been expected to examine a defence motion relating to a package which the suspect addressed to that psychiatrist, Dr Lynne Fenton.
The package - discovered in a campus mailroom three days after the shootings - reportedly contained descriptions of an attack, including drawings of a stick-figure gunman shooting people.
The defence team has been seeking a court order requiring prosecutors to immediately turn over all evidence relating to the seizure of a package, citing doctor-patient privilege.
But plans to address the issue were postponed on Monday, according to the Denver Post .
Correspondents say it is likely that the defendant will plead insanity.
Prosecutors have said it will be several weeks before a decision is made on whether or not to seek the death penalty in the case.
As of Sunday, 10 victims of the 20 July shooting remained in hospital, four of them in a critical condition.
Ashley Moser, the critically injured mother of a six-year-old girl killed in the rampage in Aurora, has suffered a miscarriage, her family said on Saturday.