Online poker sites settle fraud charges for $731m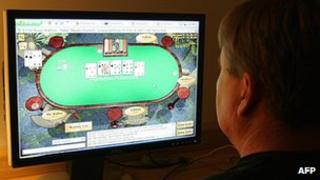 Two online poker companies have agreed a $731m (£466m) settlement with the US justice department over illegal internet gambling charges.
Under the deal, PokerStars will forfeit $547m to the US government, and must also reimburse $184m to non-US players of a rival firm, Full Tilt.
A settlement with a third firm, Absolute Poker, has not yet been approved.
The three were closed in 2011 and hit with civil money laundering charges.
Criminal charges were brought against executives and payment processors. All but one of 11 individuals charged pleaded guilty. Charges are pending against four other defendants who remain at large.
The US alleged that the three firms had fooled banks into processing gambling proceeds by masking the payments to appear as if they had come from non-existent online merchants.
The companies have not admitted wrongdoing as part of the civil settlement, announced by the US Department of Justice.
Under the agreement, Isle of Man-based PokerStars acquired the assets of Dublin-based Full Tilt.
Mark Scheinberg, PokerStars chairman, said the company was "delighted we have been able to put this matter behind us".
US Attorney Preet Bharara said the settlements "allow us to quickly get significant compensation into the victim players' hands".
The deal also allows the firms to operate in the US if regulations are changed to allow online poker.
Legalisation of online poker in the US is growing - Delaware in July became the second state to authorise licensed online poker within its borders, following Nevada.