Wife: Missing swimmer Raymond Roth 'faked death'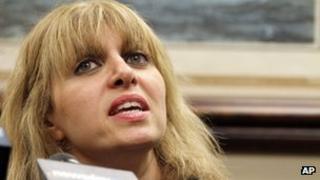 The wife of a man who disappeared while swimming off the coast of New York has accused him of faking his own death.
Evana Roth said she had been planning her husband's funeral when she found emails from him to his son that suggested the disappearance was an act.
Raymond Roth, 47, went missing from New York's Jones Beach last week, triggering an exhaustive search effort.
He was found alive when stopped for speeding by police in South Carolina on Thursday, but was not arrested.
His current location is unknown, and no arrest warrants or charges have been issued.
The officer who gave Mr Roth a speeding ticket is said to have seen his name in a registry of missing people. Mr Roth told the officer he was bound for New York and he was allowed to continue his journey.
'Be nice'
Mr Roth was reported missing by his 22-year-old-son, Jonathan, after he went swimming and did not come back to shore on 28 July.
But now his wife of 12 years says emails she discovered on her home computer indicated that the two men were collaborating in a bid to stage his disappearance.
At a news conference on Friday, Mrs Roth distributed copies of the messages she found. One email instructed Jonathan to contact his father at a resort in Orlando, Florida, on Sunday evening.
It said [all errors original]: "There needs to be a way to find out how things are going. Call me Sunday night at the resort. Go to a pay phone or borrow your friends phone. You must call within 15 minutes of the determined time to call in order to be sure I will be available."
In another email, Mr Roth said he needed money for the trip and asked his son to hand over a copy of his will to relatives.
"Tell uncle Bob I handed you the Lawyer papers - then you just noticed that there was an envelope with Uncle Bob's name on it. (the last Will and Testemnet then hand it to him - all of the paperwork)."
Mrs Roth says she contacted the authorities and some relatives after she discovered the emails, and received a call from her husband soon afterwards.
"I had no knowledge at all that he would do anything of this sort," Mrs Roth said.
Her husband recently lost his job, she said, and had increased the size of his life insurance and put their house up for sale.
Her lawyer said on Friday morning she received a text message from her husband, saying: "Evana. What is going on? I just heard you have a press conference later. Be nice. Almost 15 years together."
Jonathan, who is Mrs Roth's stepson, lives with the couple but has not been seen since Tuesday when he said he was going to stay with an aunt in New Jersey, the New York Times reported.
It is not clear if Mr Roth will face criminal charges as a result of the incident.